Our Mission
The goal of the Poitras Center for Psychiatric Disorders Research is to advance human health through brain research by addressing mental disorders that have a devastating impact on patients, their families, and society at large.
Our Founders Patricia and James Poitras '63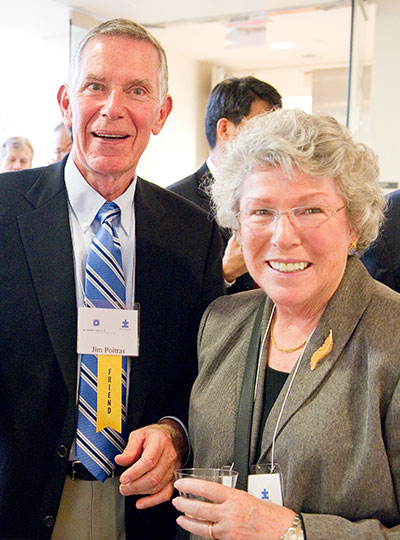 The decision to establish the Poitras Center for Psychiatric Disorders Research came to Patricia and James Poitras shortly after hearing Robert Desimone address a meeting of the McGovern Institute Leadership Board in 2006. There, Desimone described a long-range plan for the future of the Institute and the creation of a new initiative for brain disease and mental illness.
"We were pleased with this newly stated purpose to bring basic research into practice. We had decided many years ago that our philanthropic efforts would be directed towards psychiatric research. We could not have imagined then that this perfect synergy between research at MIT's McGovern Institute and our own philanthropic goals would develop," recalls Jim Poitras, a 1963 MIT alumnus with a degree in electrical engineering.
"After hearing Bob, we talked with Pat and Lore McGovern over dinner," continues Pat, "and realized we could help make this happen faster than even they had hoped. We are very hopeful for the future."
Pat and Jim committed $20 million to support research on major depression, bipolar disorder, schizophrenia and other psychiatric disorders at the center. In 2017, they further expanded the center's impact with the creation of the endowed James and Patricia Poitras Professorship of Neuroscience at MIT, a position currently held by gene engineering pioneer Feng Zhang. "We are most interested in bringing basic scientific research to bear on new treatment options for psychiatric diseases. The work of Feng Zhang and his team is immeasurably promising to us and to the field of brain disorders research," Jim and Pat said in 2017.
In the fall of 2018, the Poitrases further grew the center by establishing the Poitras Catalyst Fund, which fuels the development of novel CRISPR and gene engineering technologies in the labs of Feng Zhang and Guoping Feng. Adds Jim, "Providing support for high-risk, high-reward projects that have the potential to significantly impact individuals living with mental illness has been immensely rewarding to us."
Our Impact
Learn more about the center's research, people and publications in the 2021-2023 Poitras Center for Psychiatric Disorders Research Impact Report.