Monumental new sculpture commissioned for MIT's McGovern Institute
---
"SCIENTIA" is the newest addition to MIT's Public Art Collection.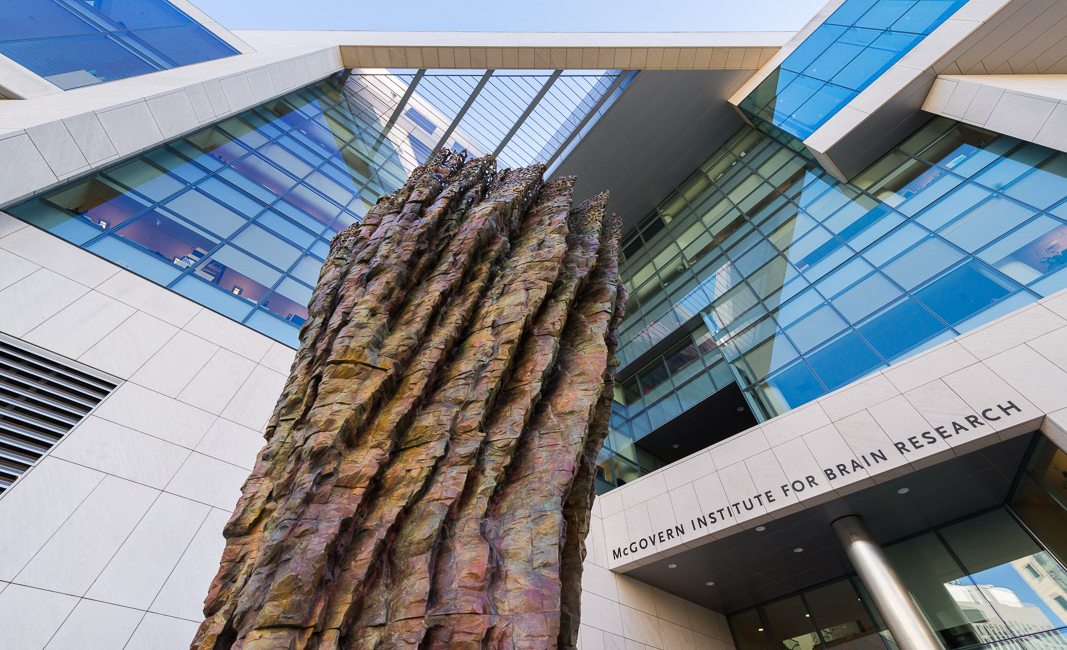 The newest addition to MIT's Public Art Collection is now on permanent display at the McGovern Institute for Brain Research at 550 Main Street in Kendall Square, Cambridge, Massachusetts. "SCIENTIA," a monumental bronze sculpture by Ursula von Rydingsvard is a gift from Lore Harp McGovern and represents the 52nd piece of public art on campus. The new work will be dedicated in a public ceremony on Friday, Oct. 28 at 5 p.m., followed by a free artist talk at 6 p.m. in the Singleton Auditorium (Room 46-3002).
"'SCIENTIA' represents that art and science are not separate entities," says Lore Harp McGovern, co-founder of the McGovern Institute and a member of the Council for the Arts at MIT. "Art defines our humanity, advances our curiosity, and forces us to ask big questions — questions the McGovern Institute for Brain Research is trying to answer. 'SCIENTIA' invites you in."
Von Rydingsvard's "SCIENTIA" is among her most ambitious sculptures to date, at approximately 24 feet tall and over 17,000 pounds. In creating the work, the artist first produced a wood model in her studio using 4×4-inch cedar beams milled for the construction industry.  Using circular saws and a range of cutting tools, she sliced, marked, and shaped the wood elements, then stacked them to create layers that were glued and screwed into place. The full-scale wood model was then transported to Polich Tallix Fine Art Foundry (founded by Richard Polich SM '65), where the majority of the sculpture was sand cast while the delicate filigree sections were cast using the lost-wax technique. Von Rydingsvard patinated the bronze surface by hand with chemicals and a blow torch.
For over 30 years, von Rydingsvard has been making monumental sculptures that reveal the trace of the human hand and resemble objects and environments that echo the artist's family heritage in pre-industrial Poland. The artist's childhood was marked by the strain of living in eight different refugee camps over the course of five years. Her earliest recollections — of displacement and subsistence through humble means — infuse her work with emotional potency. Von Rydingsvard has built towering cedar structures, creating intricate networks of individual beams, shaped by sharp and lyrical cuts and fused together to form rich, dynamic surfaces. While abstract at its core, von Rydingsvard's work takes visual cues from the landscape, the human body, and utilitarian objects — such as the artist's collection of household vessels — and demonstrates an interest in the point where the human-made meets nature.
"Ursula von Rydingsvard's commissioned piece for the McGovern is a fantastic addition to MIT's great public art collection," List Visual Arts Center Director Paul C. Ha says. "This powerful sculpture will inspire many and will be one of the signature pieces in our collection. We're grateful for Ms. McGovern's thoughtfulness and her generosity in helping us acquire this magnificent piece for MIT."