The McGovern Institute is an integral part of MIT with a board that includes representatives appointed by the McGovern family and by MIT. The director of the McGovern Institute is Robert Desimone, who is also the Doris and Don Berkey Professor in MIT's Department of Brain and Cognitive Sciences. Desimone is responsible for the overall scientific direction of the Institute, and is supported by the Institute's administrative staff. The McGovern Institute is also guided by a Scientific Advisory Board of distinguished neuroscientists from outside MIT.
McGovern Institute Board
Robert Langer

Robert Langer is the David H. Koch Institute Professor at MIT and the most cited engineer in history.  He is written over 1,250 articles and has nearly 1,050 patents worldwide.  His patents have been licensed or sublicensed to over 250 pharmaceutical, chemical, biotechnology and medical device companies.
Nergis Mavalvala

Nergis Mavalvala
is the dean of MIT's School of Science and the Curtis and Kathleen Marble Professor of Astrophysics. She is renowned for her pioneering work in gravitational-wave detection, which she conducted as a leading member of LIGO, the Laser Interferometer Gravitational-Wave Observatory. She has received numerous awards and honors for her research and teaching, and since 2015 has been the associate head of the Department of Physics. Mavalvala is the first woman to serve as dean in the School of Science.
Lore Harp McGovern

Lore Harp McGovern
is co-founder of the McGovern Institute for Brain Research. She has founded or run companies in diverse fields including health care, educational publishing and high-tech, and is an investor in numerous start-up companies in Silicon Valley. She was a co-founder of Vector Graphic, one of the earliest PC companies, and was president and CEO of the educational publishing company Good Morning Teacher! She was named Entrepreneur of the Year in 1983 by Women Business Owners of New York and has been awarded the Distinguished Immigrant Award by the Commonwealth Club of San Francisco. She is Chair Emeritus of the Whitehead Institute's Board of Associates.
Elizabeth McGovern

Elizabeth McGovern is the Executive Director and founder of WEEMA, founded in 2011 with a mission to empower Ethiopian communities through clean water access, education, economic opportunity and health care – all driven by local leadership and community collaboration.  McGovern is passionate about the issues of extreme poverty, especially the effects of the water crisis on women and girls.  Prior to becoming the full-time executive director of WEEMA, she worked 19 years as a family physician serving the urban poor including immigrants and newly arrived refugees.  Her ties to Ethiopia date back to 2008, and she currently travels to Ethiopia three times a year.  McGovern received her BS from Haverford College and her MD from the University of Pittsburgh. She sits on the board of the McGovern Foundation and is the daughter of the late Patrick McGovern.
James Poitras '63

James Poitras is the Chair of the McGovern Institute Board. After graduating from MIT in 1963, Poitras worked in research, computer programming, and administration at Massachusetts General Hospital until 1979. For 22 years, he headed the family's medical products manufacturing business, Highland Laboratories, Inc., based in Ashland, MA.  He retired in 2006 as President and CEO of the company, and he continues to manage other family investments. Patricia and James Poitras decided to make their generous gift to establish the
Poitras Center for Affective Disorders Research
, very shortly after hearing Robert Desimone address a meeting of the McGovern Institute's Leadership Board in November 2006. There, Desimone described a long-range plan for the future of the Institute and the creation of a new initiative for brain disease and mental illness. The Poitras' have committed $20 million to support research on major depression, bipolar disorder, schizophrenia and other psychiatric disorders at the center. Both James and his wife Patricia are members of the McGovern Institute Leadership Board. They are longstanding donors to MIT and have previously endowed the James W. and Patricia T. Poitras Professorship Fund in the Department of Brain and Cognitive Sciences in the field of psychiatric research.
Joshua Sanes
Joshua Sanes is professor of molecular and cellular biology and director of the Center for Brain Science at Harvard University. His research has given fundamental insight based on molecular, genetic and imaging approaches into how synapses form, mature, and function. He is a member of the National Academy of Sciences, and a fellow of the American Association for the Advancement of Science and the American Academy of Arts and Sciences. He has served on the National Advisory Council of the National Institute of Neurological Diseases and Stroke, the Council of the Society for Neuroscience, and advisory panels for the Muscular Dystrophy Association, the Amyotrophic Lateral Sclerosis (ALS) Association, the Klingenstein Neuroscience Fund, the Searle Scholars Fund, the Stowers Institute, and the Howard Hughes Medical Institute.
Morgan Sheng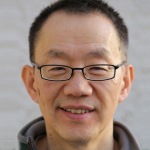 Morgan Sheng is a core institute member of the Broad Institute of MIT and Harvard, where he serves as co-director of the Broad's Stanley Center for Psychiatric Research and as a professor of neuroscience in MIT's Department of Brain and Cognitive Sciences.  Previously, Sheng was the Menicon Professor of Neuroscience at MIT, as well as an investigator of the Howard Hughes Medical Institute. From 2008 to 2019, he was vice president of neuroscience at Genentech where he led research and drug discovery efforts for major diseases of the nervous system. His research at Genentech focused on human genetics and pathogenic mechanisms of neurodegenerative disease, particularly Alzheimer's and Parkinson's diseases.
Allyson Tevrizian

Allyson Tevrizian served on faculty at the University of California San Francisco School of Medicine in the Division of Allergy/Immunology prior to assuming the role of Physician and Partner of Allergy and Asthma Medical Group of the Bay Area in 2005. In addition to clinical medicine, Tevrizian has participated in several clinical trials involving immunomodulatory therapy for Allergic Disease. She has also engaged in leadership roles including Board Membership for the California Society of Allergy, Asthma, and Immunology as well as the Allergy, Asthma, and Immunology Foundation of Northern California.
K. Lisa Yang

K. Lisa Yang serves on the Board of Trustees of Autism Speaks, Board of Trustees of The Devereux Foundation, Board of Trustees of The Philadelphia History Museum at the Atwater Kent, Cornell University Trustee Council and Cornell University School of Industrial and Labor Relations (ILR) Advisory Council. In 2015, she co-founded the K. Lisa Yang and Hock E. Tan Employment and Disability Institute at Cornell University's ILR. Yang is also responsible for the establishment of four neuroscience centers at MIT, including the
Hock E. Tan and K. Lisa Yang Center for Autism Research,
the
K. Lisa  Yang and Hock E. Tan Center for Molecular Therapeutics,
the
K. Lisa Yang Center for Bionics,
and the
K. Lisa Yang Integrative Computational Neuroscience (ICoN) Center
. Lisa earned her BS from Cornell University and her MBA from Columbia University. She spent the next 25 years in investment banking at such companies as Lehman Brothers and First Boston, retiring in 2001.