Polina Anikeeva and Feng Zhang awarded 2018 Vilcek Prize
---
Prize recognizes contributions to biomedical research made by immigrant scientists.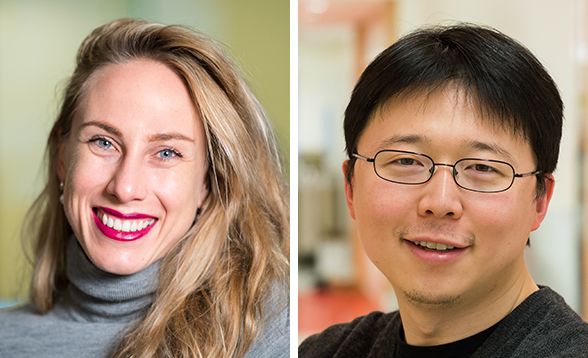 Polina Anikeeva, the Class of 1942 Associate Professor in the Department of Materials Science and Engineering and associate director of the Research Laboratory of Electronics, and Feng Zhang, the James and Patricia Poitras '63 Professor in Neuroscience at the McGovern Institute, have each been awarded a 2018 Vilcek Prize for Creative Promise in Biomedical Science. Awarded annually by the Vilcek Foundation, the $50,000 prizes recognize younger immigrants who have demonstrated exceptional promise early in their careers.
"The Vilcek Prizes were established in appreciation of the immigrants who chose to dedicate their vision and talent to bettering American society," says Rick Kinsel, president of the Vilcek Foundation. "This year's prizewinners honor and continue that legacy with works of astounding, revolutionary importance."
Polina Anikeeva, who was born in the former Soviet Union, earned her PhD in materials science and engineering at MIT in 2009 and now runs her own bioelectronics lab in the same department focused on the development of materials and devices that enable recording and manipulation of signaling processes within the nervous system. The Vilcek Foundation recognizes Anikeeva for "fashioning ingenious solutions to long-standing challenges in biomedical engineering" including the design of therapeutic devices for conditions such as Parkinson's disease and spinal cord injury.
Feng Zhang, who is also a core member of the Broad Institute and an associate professor in the departments of Brain and Cognitive Sciences and Biological Engineering, is being recognized for his role in advancing optogenetics (a method for controlling brain activity with light) and developing molecular tools to edit the genome. Thanks to his leadership in inventing precise and efficient gene-editing technologies using CRISPR, Zhang's work has resulted in a "growing array of applications, such as uncovering the genetic underpinnings of diseases, ushering in gene therapies to cure heritable diseases, and improving agriculture." Zhang's family immigrated to the United States from China when he was 11 years of age.
Anikeeva and Zhang will be among eight Vilcek prizewinners honored at an awards gala in New York City in April 2018.
The Vilcek Foundation was established in 2000 by Jan and Marica Vilcek, immigrants from the former Czechoslovakia. The mission of the foundation, to honor the contributions of immigrants to the United States and to foster appreciation of the arts and sciences, was inspired by the couple's respective careers in biomedical science and art history, as well as their personal experiences and appreciation of the opportunities they received as newcomers to this country.