Michale Fee receives McKnight Technological Innovations in Neuroscience Award
---
The McKnight technology award supports scientists using novel and creative approaches to understanding brain function.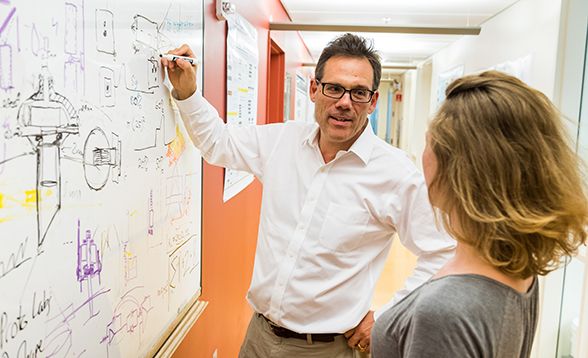 McGovern Institute investigator Michale Fee has been selected to receive a 2018 McKnight Technological Innovations in Neuroscience Award for his research on "new technologies for imaging and analyzing neural state-space trajectories in freely-behaving small animals."
"I am delighted to get support from the McKnight Foundation," says Fee, who is also the Glen V. and Phyllis F. Dorflinger Professor in the Department of Brain and Cognitive Neurosciences at MIT. "We're very excited about this project which aims to develop technology that will be a great help to the broader neuroscience community."
Fee studies the neural mechanisms by which the brain, specifically that of juvenile songbirds, learns complex sequential behaviors. The way that songbirds learn a song through trial and error is analogous to humans learning complex behaviors, such as riding a bicycle. While it would be insightful to link such learning to neural activity, current methods for monitoring neurons can only monitor a limited field of neurons, a big issue since such learning and behavior involve complex interactions between larger circuits. While a wider field of view for recordings would help decipher neural changes linked to this learning paradigm, current microscopy equipment is large relative to a juvenile songbird, and microscopes that can record neural activity generally constrain the behavior of small animals. Ideally, technologies need to be lightweight (about 1 gram) and compact in size (the size of a dime), a far cry from current larger microscopes that weigh in at 3 grams. Fee hopes to be able to break these technical boundaries and miniaturize the recording equipment thus allowing recording of more neurons in naturally behaving small animals.
"We are thrilled that the McKnight Foundation has chosen to support this project. The technology that Michale's developing will help to better visualize and understand the circuits underlying learning," says Robert Desimone, director of MIT's McGovern Institute for Brain Research.
In addition to development and miniaturization of the microscopy hardware itself, the award will support the development of technology that helps analyze the resulting images, so that the neuroscience community at large can more easily deploy and use the technology.