Two CRISPR scientists on the future of gene editing
---
What is the future of CRISPR technology?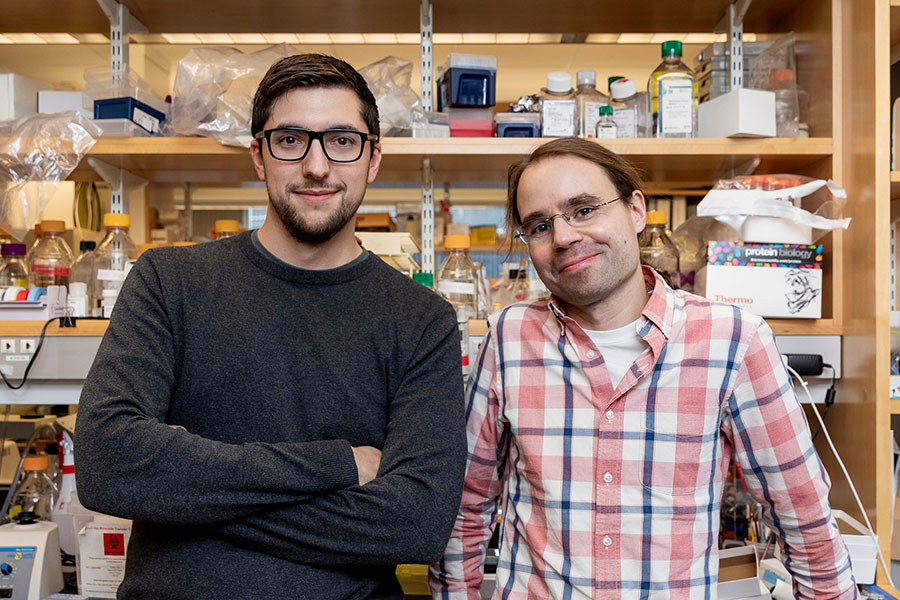 As part of our Ask the Brain series, Martin Wienisch and Jonathan Wilde of the Feng lab look into the crystal ball to predict the future of CRISPR tech.

_____
Where will CRISPR be in five years?
Jonathan: We'll definitely have more efficient, more precise, and safer editing tools. An immediate impact on human health may be closer than we think through more nutritious and resilient crops. Also, I think we will have more viable tools available for repairing disease-causing mutations in the brain, which is something that the field is really lacking right now.
Martin: And we can use these technologies with new disease models to help us understand brain disorders such as Huntington's disease.
Jonathan: There are also incredible tools being discovered in nature: exotic CRISPR systems from newly discovered bacteria and viruses. We could use these to attack disease-causing bacteria.
Martin: We would then be using CRISPR systems for the reason they evolved. Also improved gene drives, CRISPR-systems that can wipe out disease-carrying organisms such as mosquitoes, could impact human health in that time frame.
What will move gene therapy forward?
Martin: A breakthrough on delivery. That's when therapy will exponentially move forward. Therapy will be tailored to different diseases and disorders, depending on relevant cell types or the location of mutations for example.
Jonathan: Also panning biodiversity even faster: we've only looked at one small part of the tree of life for tools. Sequencing and computational advances can help: a future where we collect and analyze genomes in the wild using portable sequencers and laptops can only quicken the pace of new discoveries.
_____
Do you have a question for The Brain? Ask it here.