Perspectives from a COVID-19 "essential worker"
---
Steve Shannon continues to manage operations of the Martinos Imaging Center during the COVID-19 lockdown.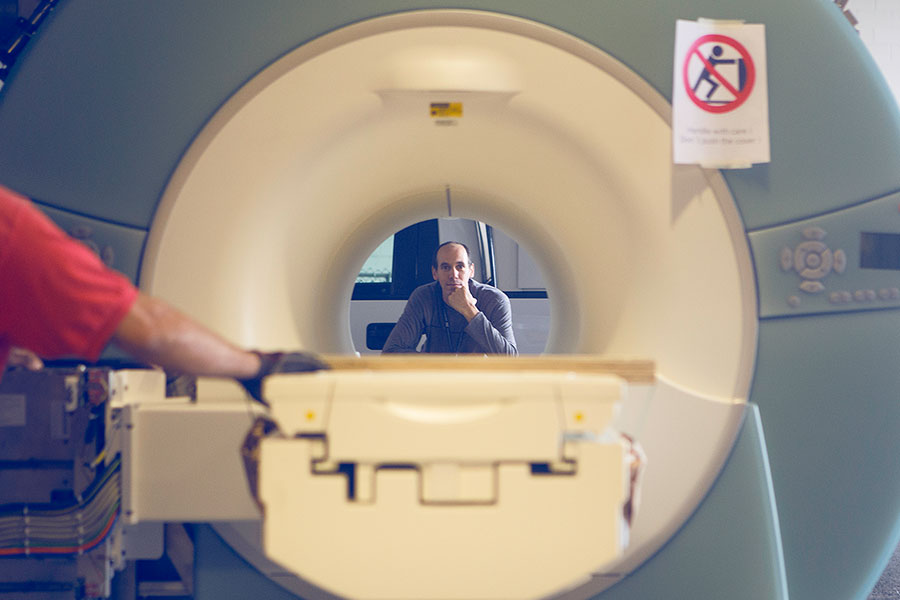 "Overall, a big portion of my job has been to support our fantastic researchers during the rampdown period, so the transition has been tough. We supported the wind-down period and ensured those who did scan before the shutdown, were taking every precaution to keep all researchers and study participants safe.
I was out of the office during the first week of rampdown with an oscillating fever I kept wondering, do I have the coronavirus? I also played the "is it allergies or coronavirus" game. I struggled with my mood and motivation. My son is a nurse at the Montreal Children's Hospital emergency room so I have also been deeply concerned about his well-being.
"I am one of the few people permitted to enter Building 46 to check on our imaging center equipment – and the experience has been surreal."
Knowing that the McGovern Institute and MIT is doing so much to assist us with our mental well-being is comforting and very much appreciated.
Now, I am just trying to keep to a regular routine. I am one of the few people permitted to enter Building 46 to do equipment checks. Recently, our original magnet (MRI scanner) had a spontaneous quench, or loss of liquid helium, so I am working with engineers to get current flowing back to the magnet.
I have entered the building three times in two weeks, and each time there has been zero traffic. The parking garage is almost empty and there is parking available on the street – which never happens in Cambridge! When I see someone on the street, we look at each other in disbelief and shock. Our building is clearly in lockdown; all the doors are locked and I rarely see another person.
When this crisis is over, I most look forward to seeing people smile again — or maybe I just look forward to seeing people!
---
Steve Shannon has been working at the McGovern Institute since 2006, serving as operations manager of the Martinos Imaging Center for more than fourteen years.​