Michale Fee appointed head of MIT's Brain and Cognitive Sciences Department
---
New Brain and Cognitive Sciences head to continue initiatives in academics, mentoring, and DEIJ while building on legacy of academic and scientific excellence.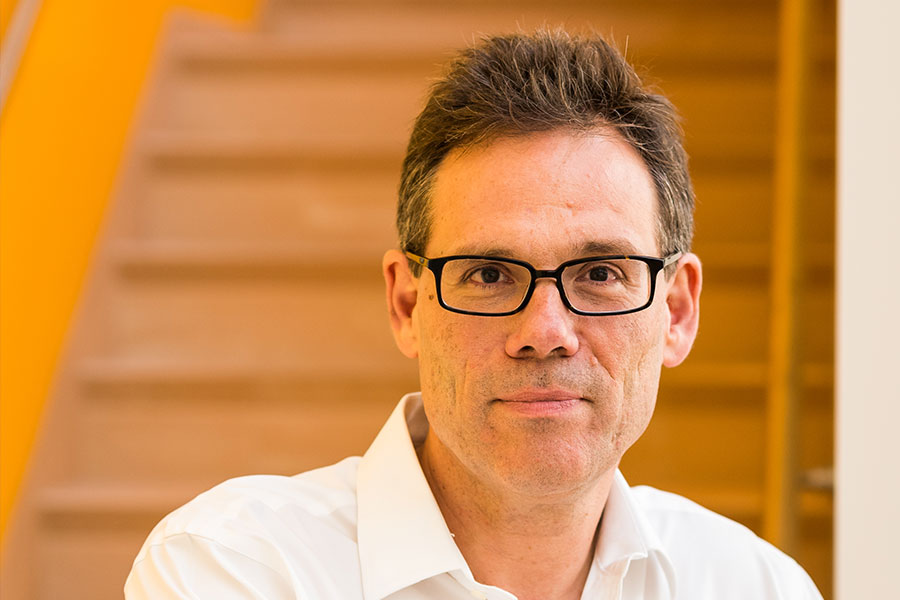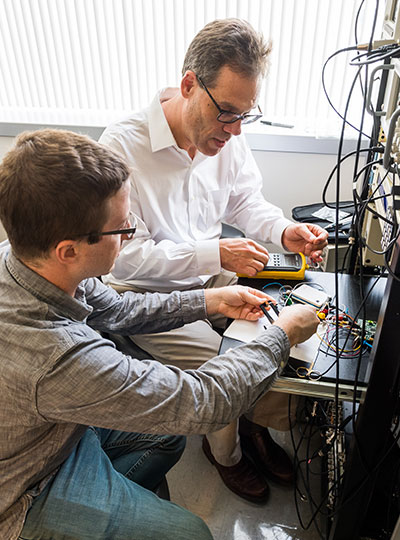 Michale Fee, the Glen V. and Phyllis F. Dorflinger Professor of Brain and Cognitive Sciences, has been named as the new head of the Department of Brain and Cognitive Sciences (BCS) effective May 1, 2021.
Fee, who is an investigator in the McGovern Institute for Brain Research, succeeds James DiCarlo, the Peter de Florez Professor of Neuroscience, who announced in December that he was stepping down to become director of the MIT Quest for Intelligence.
"I want to thank Jim for his impressive work over the last nine years as head," says Fee. "I know firsthand from my time as associate department head that BCS is in good shape and on a steady course. Jim has set a standard of transparent and collaborative leadership, which is a solid foundation for making our community stronger on all fronts." Fee notes that his first mission is to continue the initiatives begun under DiCarlo's leadership—in academics (especially Course 6-9), mentoring, and diversity, equity, inclusion, and justice—while maintaining the highest standards of excellence in research and education.
"Jim has overseen significant growth in the faculty and its impact, as well as important academic initiatives to strengthen the department's graduate and undergraduate programs," says Nergis Mavalvala, dean of the School of Science. "His emphasis on building ties among BCS, the McGovern Institute for Brain Research, and the Picower Institute for Learning and Memory has brought innumerable new collaborations among researchers and helped solidify Building 46 and MIT as world leaders in brain science."
Fee earned his BE in engineering physics in 1985 at the University of Michigan, and his PhD in applied physics at Stanford University in 1992, under the mentorship of Nobel laureate Stephen Chu. His doctoral work was followed by research in the Biological Computation Department at Bell Laboratories. He joined MIT and BCS as an associate professor in 2003 and was promoted to full professor in 2008.
He has served since 2012 as associate department head for education in BCS, overseeing significant evolution in the department's academic programs, including a complete reworking of the Course 9 curriculum and the establishment in 2019 of Course 6-9, Computation and Cognition, in partnership with EECS.
In his research, Fee explores the neural mechanisms by which the brain learns complex sequential behaviors, using the learning of song by juvenile zebra finches as a model. He has brought new experimental and computational methods to bear on these questions, identifying a number of circuits used to learn, modify, time, and coordinate the development and utterance of song syllables.
"His work is emblematic of the department in that it crosses technical and disciplinary boundaries in search of the most significant discoveries," says DiCarlo. "His research background gives Michale a deep appreciation of the importance of every sub-discipline in our community and a broad understanding of the importance of their connections with each other."
Fee has received numerous honors and awards for his research and teaching, including the MIT Fundamental Science Investigator Award in 2017, the MIT School of Science Teaching Prize for Undergraduate Education in 2016, the BCS Award for Excellence in Undergraduate Teaching in 2015, and the Lawrence Katz Prize for Innovative Research in Neuroscience from Duke University in 2012.
Fee will be the sixth head of the department, after founding chair Hans-Lukas Teuber (1964–77), Richard Held (1977–86), Emilio Bizzi (1986–97), Mriganka Sur (1997–2012), and James DiCarlo (2012–21).