Five with MIT ties elected to the National Academy of Medicine for 2021
---
MIT professors Linda Griffith and Feng Zhang recognized for contributions to medical sciences, health care, and public health.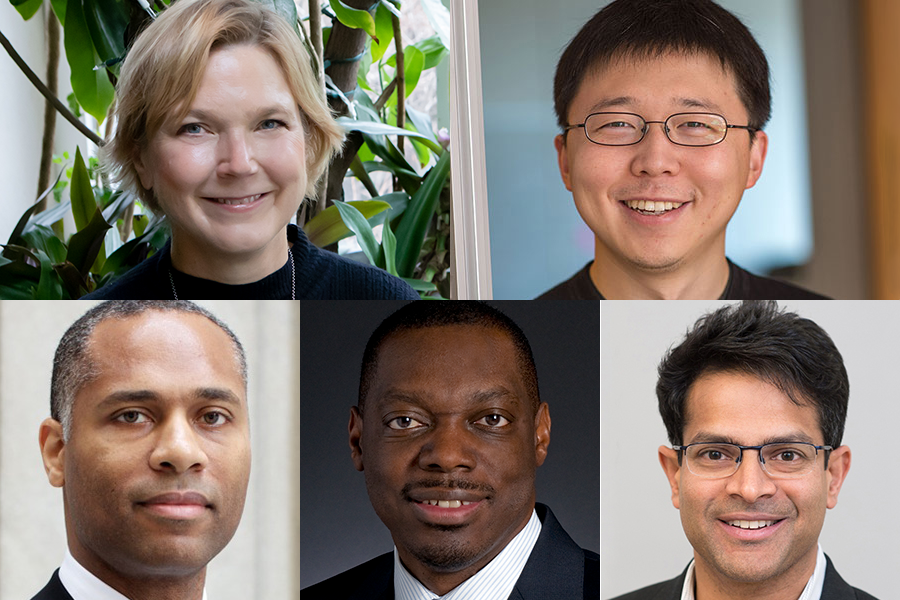 The National Academy of Medicine (NAM) has announced the election of 100 new members for 2021, including two MIT faculty members and three additional Institute affiliates.
Faculty honorees include Linda G. Griffith, a professor in the MIT departments of Biological Engineering and Mechanical Engineering; and Feng Zhang, a professor in the MIT departments of Brain and Cognitive Sciences and Biological Engineering. Guillermo Antonio Ameer SCD '99, a professor of biomedical engineering and surgery at Northwestern University; Darrell Gaskin SM '87, a professor of health policy and management at Johns Hopkins University; and Vamsi Mootha, an institute member of the Broad Institute of MIT and Harvard and former student in the Harvard-MIT Program in Health Sciences and Technology, were also honored.
The new inductees were elected through a process that recognizes individuals who have made major contributions to the advancement of the medical sciences, health care, and public health. Election to the academy is considered one of the highest honors in the fields of health and medicine and recognizes individuals who have demonstrated outstanding professional achievement and commitment to service.
Griffith, the School of Engineering Professor of Teaching Innovation and director of the Center for Gynepathology Research at MIT, is credited for her longstanding leadership in research, education, and medical translation. Specifically, the NAM recognizes her pioneering work in tissue engineering, biomaterials, and systems biology, including the development of the first "liver chip" technology. Griffith is also recognized for inventing 3D biomaterials printing and organotypic models for systems gynopathology, and for the establishment of the biological engineering department at MIT.
The academy recognizes Zhang, the Patricia and James Poitras '63 Professor in Neuroscience at MIT, for revolutionizing molecular biology and powering transformative leaps forward in our ability to study and treat human diseases. Zhang, who also is an investigator at the Howard Hughes Medical Institute and the McGovern Institute for Brain Research, and a core member of the Broad Institute of MIT and Harvard, is specifically credited for the discovery of novel microbial enzymes and their development as molecular technologies, including optogenetics and CRISPR-mediated genome editing. The academy also commends Zhang for his outstanding mentoring and professional services.
Ameer, the Daniel Hale Williams Professor of Biomedical Engineering and Surgery at the Northwestern University Feinberg School of Medicine, earned his Doctor of Science degree from the MIT Department of Chemical Engineering in 1999. A professor of biomedical engineering and of surgery who is also the director of the Center for Advanced Regenerative Engineering, he is cited by the NAM "For pioneering contributions to regenerative engineering and medicine through the development, dissemination, and translation of citrate-based biomaterials, a new class of biodegradable polymers that enabled the commercialization of innovative medical devices approved by the U.S. Food and Drug Administration for use in a variety of surgical procedures."
Gaskin, the William C. and Nancy F. Richardson Professor in Health Policy and Management, Bloomberg School of Public Health at Johns Hopkins University, earned his Master of Science degree from the MIT Department of Economics in 1987. A health economist who advances community, neighborhood, and market-level policies and programs that reduce health disparities, he is cited by the NAM "For his work as a leading health economist and health services researcher who has advanced fundamental understanding of the role of place as a driver in racial and ethnic health disparities."
Mootha, the founding co-director of the Broad Institute's Metabolism Program, is a professor of systems biology and medicine at Harvard Medical School and a professor in the Department of Molecular Biology at Massachusetts General Hospital. An alumnus of the Harvard-MIT Program in Health Sciences and Technology and former postdoc with the Whitehead Institute for Biomedical Research, Mootha is an expert in the mitochondrion, the "powerhouse of the cell," and its role in human disease. The NAM cites Mootha "For transforming the field of mitochondrial biology by creatively combining modern genomics with classical bioenergetics."
Established in 1970 by the National Academy of Sciences, the NAM addresses critical issues in health, science, medicine, and related policy and inspires positive actions across sectors. NAM works alongside the National Academy of Sciences and National Academy of Engineering to provide independent, objective analysis and advice to the nation and conduct other activities to solve complex problems and inform public policy decisions. The National Academies of Sciences, Engineering, and Medicine also encourage education and research, recognize outstanding contributions to knowledge, and increase public understanding of STEMM. With their election, NAM members make a commitment to volunteer their service in National Academies activities.