Doris and Donald Berkey '43, SM'43
---
Doris and Donald Berkey '42, SM '43 of Naples, Florida, endowed an MIT Professorship in neuroscience, with Robert Desimone, Director of the McGovern Institute, as the first incumbent.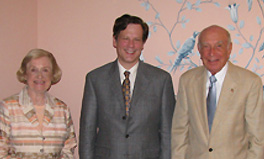 Doris and Donald Berkey '42, SM '43, of Naples, Florida, have donated $3 million to endow an MIT Professorship in neuroscience, with Robert Desimone, Director of the McGovern Institute, as the first incumbent.
Our decision to endow this chair reflects our belief that a better understanding of the brain will help to prevent some of the suffering caused by psychiatric disease, the Berkeys say. "We are delighted to learn that Bob Desimone and the McGovern Institute share this goal."
For Don Berkey, attending MIT was a childhood dream come true. At MIT he studied mechanical engineering at both the undergraduate and masters levels. "My mind was mechanical and I wanted to understand how things work," he explains. After receiving his SM in 1943, he joined General Electric (GE) to work on jet engines during the second world war. He rose through the managerial ranks, becoming General Manager of the Jet Engines Department and he holds several patents in jet engine design, including the high by-pass turbine engine. GE had won a $465 million military contract to design a more efficient engine for the C5A, a large military transport plane that had long-range requirements. "Our engine was 30% more fuel efficient," he says, "and it's the basic design for all the high-bypass jet engines that you see today with their big fans enclosed on the wings."
For his last seven years at GE, Don headed the Energy Systems and Technical Division as Vice President, working to advance technologies for solar energy, coal, nuclear, and other forms of energy during President Carter's "war on energy" years. When that focus receded during the Reagan presidency, Berkey retired in 1982 at the age of 62. Don and Doris divided their time between Cape Cod and Florida, and have taken up golfing, boating, and competitive duplicate bridge. They keep abreast of technology developments by reading MIT's Technology Review and other publications.
"In thinking about how we could focus our philanthropy," explains Don, "we decided to support research related to mental illness because our family, like so many others, has been touched by these issues. We went to the internet to learn about research in this area, and we were ultimately led to the McGovern Institute. In speaking with Bob Desimone, we were impressed by his experience in mental health research and by his accomplishments at the National Institute of Mental Health. We were also encouraged by the direction he has been leading the McGovern Institute and, in particular, by the focus of the new Poitras Center for Affective Disorders Research."
Finally, after speaking with MIT's Provost, Rafael Reif, the Berkeys decided to create the Don and Doris Berkey Professorship naming Desimone as the first incumbent.
"I agreed that Bob Desimone was the perfect choice for this professorship given his long track record of achievements in basic neuroscience research that is beginning to have clinical relevance to psychiatric disorders," says Reif.
Desimone feels profoundly grateful for the Berkey's generosity. "This professorship will support my ongoing efforts to nurture a new generation of neuroscientists dedicated to linking basic research to improving the lives of people struggling with psychiatric disorders."