Fear, Trauma and Memory: A Panel Discussion
---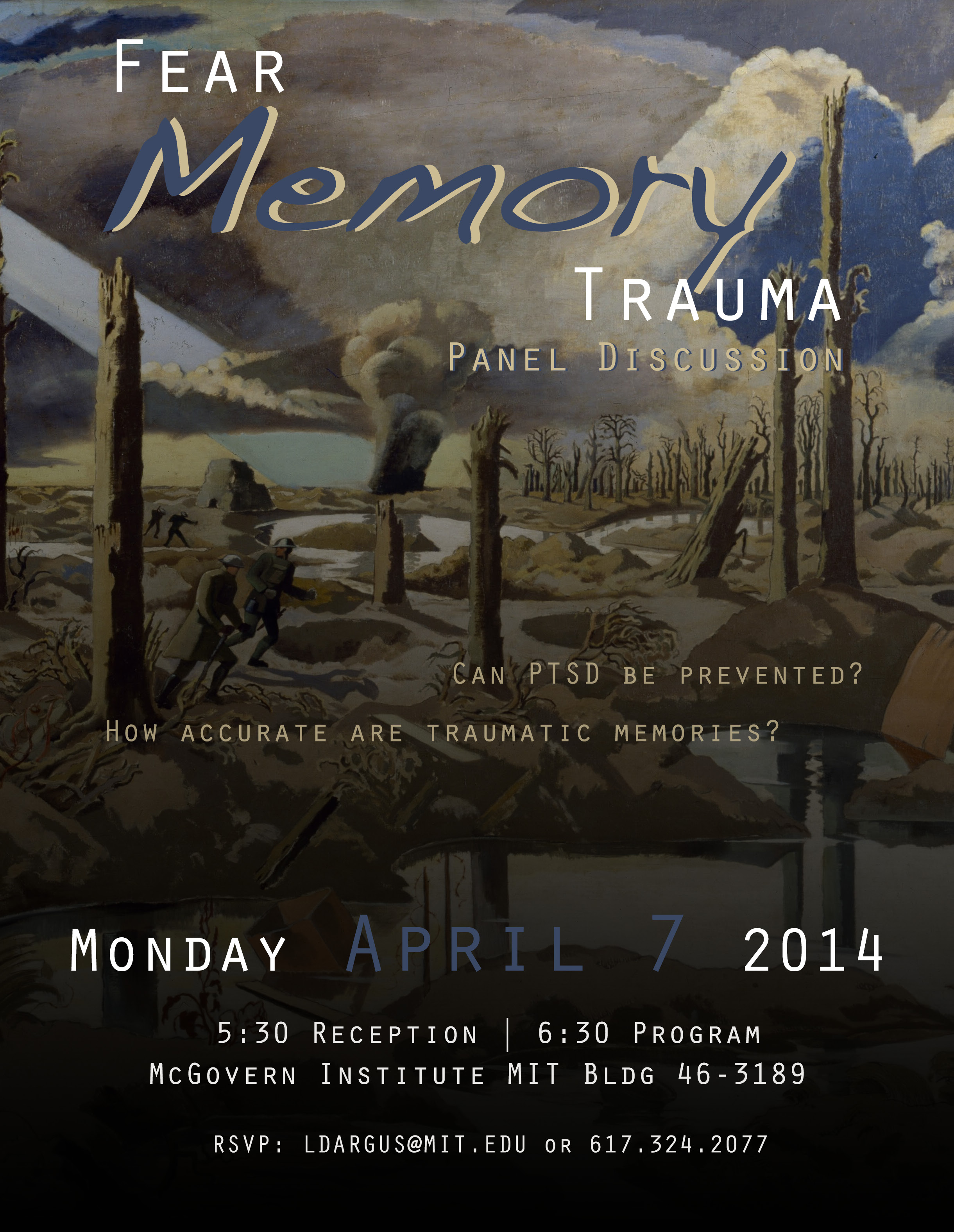 How accurate are our memories after a traumatic event? Does chronic stress make us more vulnerable to trauma? Will scientists one day succeed in preventing PTSD?
We invite you to join the discussion with a distinguished group of experts who will explore new lines of research and treatment strategies for stress disorders and traumatic memory. On Monday, April 7th, McGovern Institute director Bob Desimone will moderate a panel of experts and will engage the audience in a Q&A session. This event is free and open to the public, but registration is required. We hope you will join us!
Fear, Trauma and Memory: A Panel Discussion

DATE: Monday April 7, 2014
TIME: 5:30 reception | 6:30 panel discussion
LOCATION: McGovern Institute for Brain Research at MIT (MIT Bldg 46-3189)
QUESTIONS? ldargus@mit.edu or 617.324.2077
MODERATOR
Robert Desimone is the director of the McGovern Institute and the Doris and Don Berkey Professor of Neuroscience in MIT's Department of Brain and Cognitive Sciences. Prior to joining the McGovern Institute in 2004, he was director of the Intramural Research Program at the National Institutes of Mental Health. He is a member of the National Academy of Sciences and the American Academy of Arts and Sciences and a recipient of numerous awards, including the Troland Prize of the National Academy of Sciences.
PANELISTS

Michael Ball is originally from Boston and is a graduate of Boston Latin Academy High School. He enlisted in the United States Marine Corps upon graduation from high school and was stationed out of Camp Lejeune, North Carolina. Ball was deployed twice to Afghanistan with the 2nd Battalion 6th Marine Regiment, and subsequently diagnosed with both post traumatic stress disorder and traumatic brain injury after receiving multiple concussions from IED blasts in southern Helmand Province. Now out of the Marine Corps for one year, Michael now volunteers to help veterans in need and spread awareness of the struggles veterans face upon separation from the military.

John Gabrieli is the director of the Athinoula A. Martinos Imaging Center at the McGovern Institute. He is an Investigator at the Institute, with faculty appointments in the Department of Brain and Cognitive Sciences and the Institute for Medical Engineering at MIT. Gabrieli's major research focus is combining brain imaging with behavioral analysis to understand the organization of memory, thought, and emotion in the human brain. A central theme of Gabrieli's research is memory in its different forms: the short-term recall that allows us to dial a phone number, our long-term memory of events and places, and the emotional associations that often color our factual memories. These different types of memory are mediated by different brain systems, and Gabrieli seeks to tease these systems apart and understand how they interact to shape our overall sense of the past.
Prior joining MIT, Gabrieli spent 14 years at Stanford University in the Department of Psychology and Neurosciences Program. Since 1990, he has served as Visiting Professor, Department of Neurological Sciences, Rush-Presbyterian-St. Luke's Hospital and Rush Medical College. He earned a PhD in Behavioral Neuroscience in the MIT Department of Brain and Cognitive Sciences in 1987 and BA in English from Yale University in 1978.

Ki Ann Goosens is a Principal Investigator at the McGovern Institute and Assistant Professor in the MIT Department of Brain and Cognitive Sciences. Goosens is currently dedicated to studying the relationship between fear, anxiety, and stress. In 2013, Goosens published new findings demonstrating that the hormone ghrelin, a stomach hormone whose production is dramatically enhanced in times of stress, makes the brain more vulnerable to traumatic events and may predispose people to post-traumatic stress disorder. Goosens hopes that a better understanding of the brain's response to stress will lead to new therapeutic strategies for anxiety and stress disorders, depression, and other psychiatric diseases.
Prior to joining the McGovern Institute, Goosens was a postdoctoral fellow with Dr. Robert Sapolsky at Stanford University. She earned a PhD in Biopsychology from the University of Michigan, Ann Arbor, in 2002 and, prior to that, a BA with Distinction in Cognitive Science with a Concentration in Neuroscience from the University of Virginia.
Dr. Mireya Nadal-Vicens is a staff psychiatrist at Massachusetts General Hospital, where she specializes in treating individuals with stress- and trauma-related disorders. She conducts research in the Center for Anxiety and Traumatic Stress Disorder and Center for Addiction Medicine at Mass. General Hospital, and is an Instructor of Psychiatry at Harvard Medical School. Nadal-Vicens is rigorously trained in basic laboratory science in the field of brain development. Her research and training plan relates to establishing a new model for depression and social defeat, and in this work she draws from several disciplines and departments at MGH/Harvard, including psychiatry, neuroscience, pharmacology, and genetics.
Nadal-Vicens earned a BA from Harvard College, an MS in Neuroscience from Stanford University, and an MD/PhD in the Department of Neuroscience at Harvard Medical School. During her PhD thesis work, she studied the molecular signaling cascade responsible for the generation of neurons and glial cells during early brain development, working with newly discovered neural stem cells.