Feng Zhang named 2016 Tang Prize Laureate
---
MIT/Broad scientist among three honored for CRISPR contributions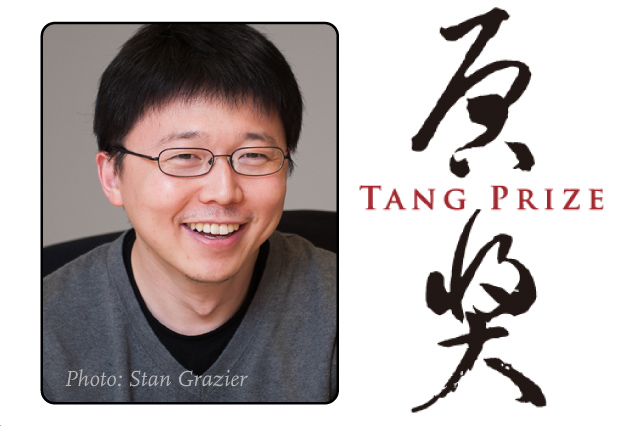 Feng Zhang, a core institute member of the Broad Institute, an investigator at the McGovern Institute for Brain Research at MIT, and W. M. Keck Career Development Associate Professor in MIT's Department of Brain and Cognitive Sciences with a joint appointment in Biological Engineering, has been named a 2016 Tang Prize Laureate in Biopharmaceutical Science for his role in developing the CRISPR-Cas9 gene-editing system and demonstrating pioneering uses in eukaryotic cells.
The Tang Prize is a biennial international award granted by judges convened by Academia Sinica, Taiwan's top academic research institution.
In January 2013 Zhang and his team were first to report CRISPR-based genome editing in mammalian cells, in what has become the most-cited paper in the CRISPR field. Zhang shares the award with Emmanuelle Charpentier of the Max Planck Institute and Jennifer A. Doudna of the University of California at Berkeley.
"To be recognized with the Tang Prize is an incredible honor for our team and it demonstrates the impact of the entire CRISPR field, which began with microbiologists and will continue for years to come as we advance techniques for genome editing," Zhang said. "Thanks to the scientific community's commitment to collaboration and an emphasis on sharing across institutions and borders, the last few years have seen a revolution in our ability to understand cancer, autoimmune disease, mental health and infectious disease. We are entering a remarkable period in our understanding of human health."
Although Zhang is well-known for his work with CRISPR, the 34-year-old scientist has a long track record of innovation. As a graduate student at Stanford University, Zhang worked with Karl Deisseroth and Edward Boyden, who is now also a professor at MIT, to develop optogenetics, in which neuronal activity can be controlled with light. The three shared the Perl-UNC Prize in Neuroscience in 2012 as recognition of these efforts. Zhang has also received the National Science Foundation's Alan T. Waterman Award (2014), the Jacob Heskel Gabbay Award in Biotechnology and Medicine (2014, shared with Charpentier and Doudna), the Tsuneko & Reiji Okazaki Award (2015), the Human Genome Organization (HUGO) Chen New Investigator Award (2016), and the Canada Gairdner International Award (2016, shared with Charpentier and Doudna, as well as Rodolphe Barrangou from North Carolina State University and Philippe Horvath from DuPont Nutrition & Health).
One of Zhang's long-term goals is to use genome-editing technologies to better understand the nervous system and develop new approaches to the treatment of neurological and psychiatric diseases. The Zhang lab has shared CRISPR-Cas9 components in response to more than 30,000 requests from academic laboratories around the world and has trained thousands of researchers in the use of CRISPR-Cas9 genome-editing technology through in-person events and online opportunities. In his current research, he and his students and postdoctoral fellows continue to improve and expand the gene-editing toolbox.
"Professor Zhang's lab has become a global hub for CRISPR research," said MIT Provost Martin Schmidt. "His group has shared CRISPR-Cas9 components with tens of thousands of scientists, and has trained many more in the use of CRISPR-Cas9 technology. The Tang Prize is a fitting recognition of all that Professor Zhang has done, and continues to do, to advance this field."
"CRISPR is a powerful new tool that is transforming biological science while promising revolutionary advances in health care," said Michael Sipser, dean of the School of Science and Donner Professor of Mathematics at MIT. "We are delighted that Feng Zhang, together with Jennifer Doudna and Emmanuelle Charpentier, have been recognized with the Tang Prize."
"It is wonderful that the Academia Sinica has chosen to recognize the CRISPR field with this year's Tang Prize," said Eric Lander, founding director of the Broad Institute. "On behalf of my colleagues at the Broad and MIT, I wish to congratulate Feng, as well as Emmanuelle Charpentier and Jennifer Doudna, along with the many teams of scientists and all others who have contributed to these transformational discoveries."
Founded in 2012 by Samuel Yin, the Tang Prize is a non-governmental, non-profit educational foundation that awards outstanding contributions in four fields: sustainable development, biopharmaceutical science, sinology, and rule of law. Nomination and selection of laureates is conducted by the Academia Sinica. Each award cycle, the academy convenes four autonomous selection committees, each consisting of an assembly of international experts, until a consensus on the recipients is reached. Recipients are chosen on the basis of the originality of their work along with their contributions to society, irrespective of nationality, ethnicity, gender, and political affiliation.
This year marks the second awarding of the prize. This year's awardees will receive the medal, diploma, and cash prize at an award ceremony on September 25 in Taipei. Recipients in each Tang Prize category receive a total of approximately $1.24 million (USD) and a grant of approximately $311,000 (USD). The cash prize and grants are divided equally among joint recipients in each category.