McGovern scientists named STAT Wunderkinds
---
Search for "next generation of scientific superstars" selects members of Boyden and Zhang labs.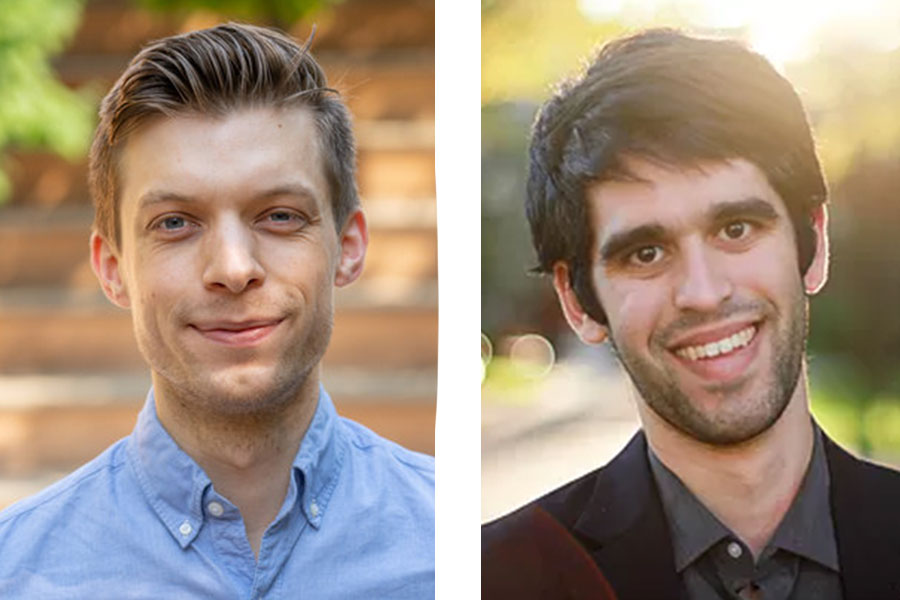 McGovern researchers Sam Rodriques and Jonathan Strecker have been named to the class of 2019 STAT wunderkinds. This group of 22 researchers was selected from a national pool of hundreds of nominees, and aims to recognize trail-blazing scientists that are on the cusp of launching their careers but not yet fully independent.
"We were thrilled to receive this news," said Robert Desimone, director of the McGovern Institute. "It's great to see the remarkable progress being made by young scientists in McGovern labs be recognized in this way."
Finding context
Sam Rodriques works in Ed Boyden's lab at the McGovern Institute, where he develops new technologies that enable researchers to understand the behaviors of cells within their native spatial and temporal context.
"Psychiatric disease is a huge problem, but only a handful of first-in-class drugs for psychiatric diseases approved since the 1960s," explains Rodriques, also affiliated with the MIT Media Lab and Broad Institute. "Coming up with novel cures is going to require new ways to generate hypotheses about the biological processes that underpin disease."
Rodriques also works on several technologies within the Boyden lab, including preserving spatial information in molecular mapping technologies, finding ways of following neural connectivity in the brain, and Implosion Fabrication, or "Imp Fab." This nanofabrication technology allows objects to be evenly shrunk to the nanoscale and has a wide range of potential applications, including building new miniature devices for examining neural function.
"I was very surprised, not expecting it at all!" explains Rodriques when asked about becoming a STAT Wunderkind, "I'm sure that all of the hundreds of applicants are very accomplished scientists, and so to be chosen like this is really an honor."
New tools for gene editing
Jonathan Strecker is currently a postdoc working in Feng Zhang's lab, and associated with both the McGovern Institute and Broad Institute. While CRISPR-Cas9 continues to have a profound effect and huge potential for research and biomedical, and agricultural applications, the ability to move entire genes into specific target locations remained out reach.
"Genome editing with CRISPR-Cas enzymes typically involves cutting and disrupting genes, or making certain base edits," explains Strecker, "however, inserting large pieces of DNA is still hard to accomplish."
As a postdoctoral researcher in the lab of CRISPR pioneer Feng Zhang, Strecker led research that showed how large sequences could be inserted into a genome at a given location.
"Nature often has interesting solutions to these problems and we were fortunate to identify and characterize a remarkable CRISPR system from cyanobacteria that functions as a programmable transposase."
Importantly, the system he discovered, called CAST, doesn't require cellular machinery to insert DNA. This is important as it means that CAST could work in many cell types, including those that have stopped dividing such as neurons, something that is being pursued.
By finding new sources of inspiration, be it nature or art, both Rodriques and Strecker join a stellar line up of young investigators being recognized for creativity and innovation.