How We Feel app to track spread of COVID-19 symptoms
---
Feng Zhang and interdisciplinary researchers are working with Pinterest CEO Ben Silbermann to launched an app that tracks spread of coronavirus-linked symptoms.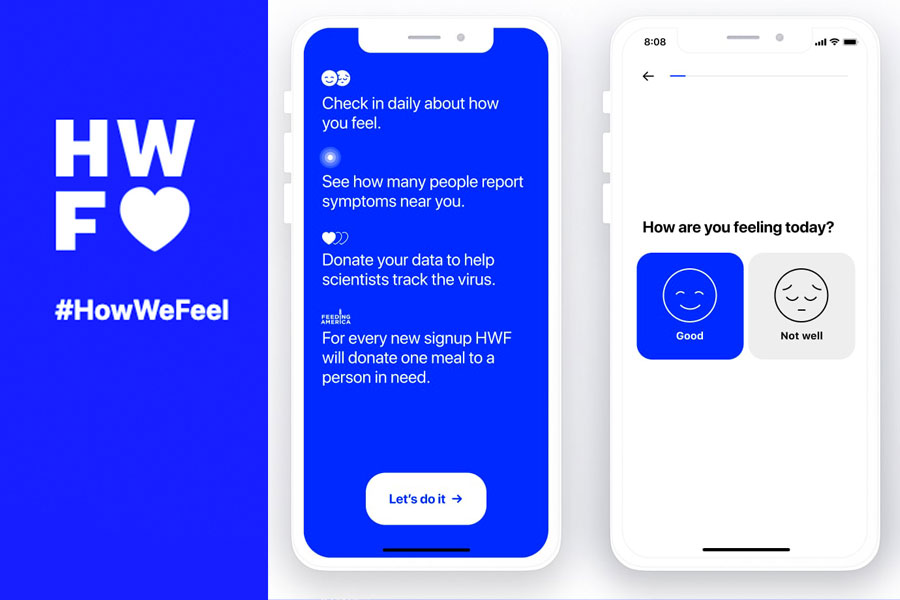 A major challenge with containing the spread of COVID-19 in many countries, has been an ability to quickly detect infection. Feng Zhang, along with Pinterest CEO Ben Silberman, and collaborators across scientific and medical disciplines, are coming together to launch an app called How We Feel, that will allow citizen scientists to self-report symptoms.
"It is so important to find a way to connect scientists to fight this pandemic," explained Zhang. We wanted to find a fast and agile way to ultimately build a dynamic picture of symptoms associated with the virus."
Designed to help scientists track and stop the spread of the novel coronavirus by creating an exchange of information between the citizens and scientists at scale, the new How We Feel app does just this. The app lets people self-report symptoms in 30 seconds or less and see how others in their area are feeling. To protect user privacy, the app explicitly does not require an account sign in, and doesn't ask for identifying information such as the user's name, phone number, or email address before they donate their data. Reporting symptoms only takes about 30 seconds, but the data shared by users has the potential to reveal and even predict outbreak hotspots, potentially providing insight into the spread and progression of COVID-19. To further contribute to the fight against COVID-19, Ben and Divya Silbermann will donate a meal to Feeding America for every download of the How We Feel app—up to 10 million meals.
The app was created by the How We Feel Project, a nonprofit collaboration between Silbermann, doctors, and an interdisciplinary group of researchers including Feng Zhang, investigator at the McGovern Institute for Brain Research, Broad Institute, and the James and Patricia Poitras Professor of Neuroscience at MIT. Other institutions currently involved include Harvard University T.H. Chan School of Public Health and Faculty of Arts and Sciences, University of Pennsylvania, Stanford University, University of Maryland School of Medicine, and the Weizmann Institute of Science.
Silbermann partnered closely with Feng Zhang, best known for his work on CRISPR, a pioneering gene-editing technique designed to treat diseases. Zhang and Silbermann first met in high school in Iowa. As the outbreak grew in the US, they called each other to figure out how the fields of biochemistry and technology could come together to find a solution for the lack of reliable health data from testing.
"Since high school, my friend Feng Zhang and I have been talking about the potential of the internet to connect regular people and scientists for the public good," said Ben Silbermann, co-founder and CEO of, Pinterest. "When we saw how quickly COVID-19 was spreading, it felt like a critical moment to finally build that bridge between citizens and scientists that we've always wanted. I believe we've done that with How We Feel."
Silbermann and Zhang formed the new HWF nonprofit because they believed a fully independent organization with a keen understanding of the needs of doctors and researchers should develop and manage the app. Now, they're looking for opportunities to collaborate globally. Zhang is working to organize an international consortium of researchers from 11 countries that have developed similar health status surveys. The consortium is called the Coronavirus Census Collective (CCC).
The How We Feel app is available for download today in the US on iOS and Android, and via the web at http://www.howwefeel.org.