---
McGovern Institute Director Robert Desimone reflects on the accomplishments of the last twenty years and considers what lies ahead.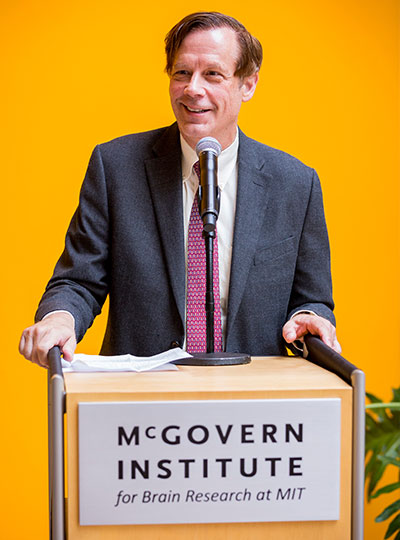 Pat and Lore McGovern founded the McGovern Institute 20 years ago with a dual mission – to understand the brain, and to apply that knowledge to help the many people affected by brain disorders. Some of the amazing developments of the past 20 years, such as CRISPR, may seem entirely unexpected and "out of the blue." But they were all built on a foundation of basic research spanning many years. With the incredible foundation we are building right now, I feel we are poised for many more "unexpected" discoveries in the years ahead.
I predict that in 20 years, we will have quantitative models of brain function that will not only explain how the brain gives rise to at least some aspects of our mind, but will also give us a new mechanistic understanding of brain disorders. This, in turn, will lead to new types of therapies, in what I imagine to be a post-pharmaceutical era of the future. I have no doubt that these same brain models will inspire new educational approaches for our children, and will be incorporated into whatever replaces my automobile, and iPhone, in 2040. I encourage you to read some other predictions from our faculty.
Our cutting-edge work depends not only on our stellar line up of faculty, but the more than 400 postdocs, graduate students, undergraduates, summer students, and staff who make up our community.
For this reason, I am particularly delighted to share with you McGovern's rising stars — 20 young scientists from each of our labs — who represent the next generation of neuroscience.
And finally, we remain deeply indebted to our supporters for funding our research, including ongoing support from the Patrick J. McGovern Foundation. In recent years, more than 40% of our annual research funding has come from private individuals and foundations. This support enables critical seed funding for new research projects, the development of new technologies, our new research into autism and psychiatric disorders, and fellowships for young scientists just starting their careers. Our annual fund supporters have made possible more than 42 graduate fellowships, and you can read about some of these fellows on our website.
I hope that as you visit our website and read the pages of our special anniversary issue of Brain Scan, you will feel as optimistic as I do about our future.
Robert Desimone
Director, McGovern Institute
Doris and Don Berkey Professor of Neuroscience