New Spanish-language neuroscience podcast flourishes in third season
---
MIT postbac Jessica Chomik-Morales records new episodes of "Mi Ultima Neurona" with brain scientists in seven Latin American countries over the summer of 2023.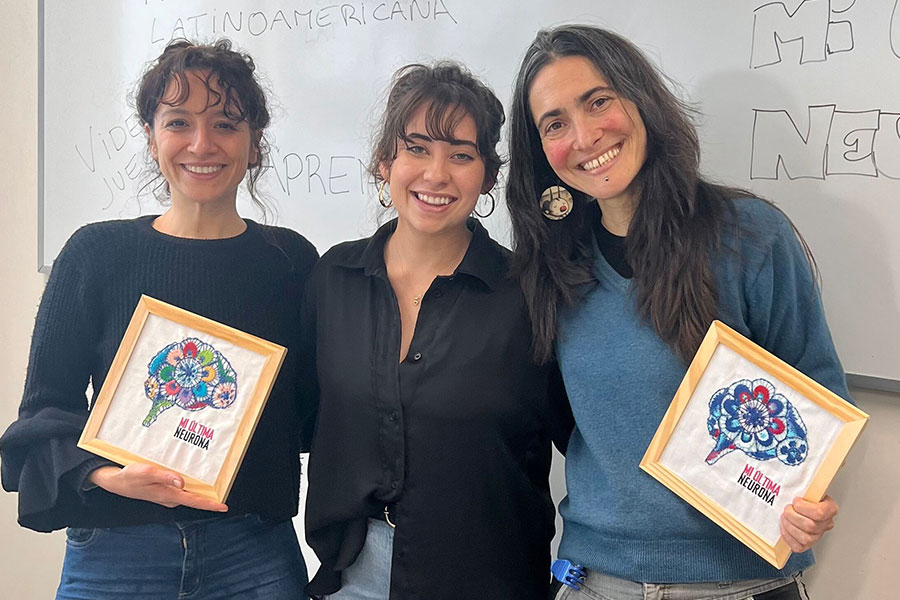 A Spanish version of this news story can be found here. (Una versión en español de esta noticia se puede encontrar aquí.)
___
Sylvia Abente, a clinical neurologist at the Universidad Nacional de Asunción in Paraguay, investigates the range of symptoms that characterize epilepsy. She works with indigenous peoples in Paraguay, and her fluency in Spanish and Guarni—the two official languages of Paraguay—allows her to help patients find the words to describe their epilepsy symptoms so she can treat them.
Juan Carlos Caicedo Mera, a neuroscientist at the Universidad Externado de Colombia, uses rodent models to research the neurobiological effects of early life stress. He has been instrumental in raising public awareness about the biological and behavioral effects of early-age physical punishment, leading to policy changes aimed at reducing its prevalence as a cultural practice in Colombia.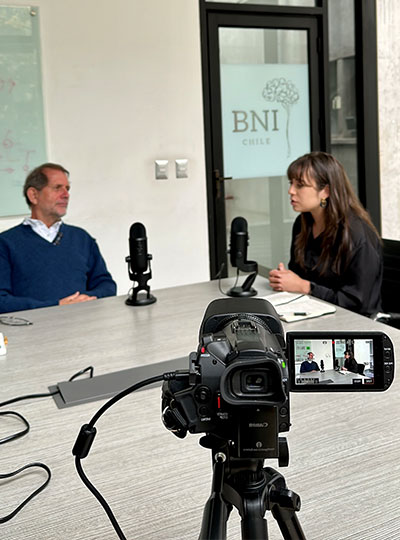 Those are just two of the 33 neuroscientists in seven Latin American countries that Jessica Chomik-Morales interviewed over 37 days for the expansive third season of her Spanish-language podcast, "Mi Ultima Neurona" ("My Last Neuron"), which launches Sept. 18 at 5 p.m. on YouTube. Each episode runs between 45 and 90 minutes.
"I wanted to shine a spotlight on their stories to dispel the misconception that excellent science can only be done in America and Europe," says Chomik-Morales, "or that it isn't being produced in South America because of financial and other barriers."
A first-generation college graduate who grew up in Asunción, Paraguay and Boca Raton, Florida, Chomik-Morales is now a postbaccalaureate research scholar at MIT. Here she works with Laura Schulz, professor of cognitive science, and Nancy Kanwisher, McGovern Institute investigator and the Walter A. Rosenblith Professor of Cognitive Neuroscience, using functional brain imaging to investigate how the brain explains the past, predicts the future, and intervenes on the present.
"The podcast is for the general public and is suitable for all ages," she says. "It explains neuroscience in a digestable way to inspire young people that they, too, can become scientists and to show the rich variety of reseach that is being done in listeners' home countries."
Journey of a lifetime
"Mi Ultima Neurona" began as an idea in 2021 and grew rapidly into a collection of conversations with prominent Hispanic scientists, including L. Rafael Reif, a Venezuelan-American electrical engineer and the 17th president of MIT.
Building upon the professional relationships she built in seasons one and two, Chomik-Morales broadened her vision, and assembled a list of potential guests in Latin America for season three.  With research help from her scientific advisor, Héctor De Jesús-Cortés, an MIT postdoc from Puerto Rico, and financial support from the McGovern Institute, the Picower Institute for Learning and Memory, the Department of Brain and Cognitive Sciences, and MIT International Science and Technology Initiatives, Chomik-Morales lined up interviews with scientists in Mexico, Peru, Colombia, Chile, Argentina, Uruguay, and Paraguay during the summer of 2023.
Traveling by plane every four or five days, and garnering further referrals from one leg of the trip to the next through word of mouth, Chomik-Morales logged over 10,000 miles and collected 33 stories for her third season. The scientists' areas of specialization run the gamut— from the social aspects of sleep/wake cycles to mood and personality disorders, from linguistics and language in the brain to computational modeling as a research tool.
"This is the most fulfilling thing I've ever done." – Jessica Chomik-Morales
"If somebody studies depression and anxiety, I want to touch on their opinions regarding various therapies, including drugs, even microdosing with hallucinogens," says Chomik-Morales. "These are the things people are talking about." She's not afraid to broach sensitive topics, like the relationship between hormones and sexual orientation, because "it's important that people listen to experts talk about these things," she says.
The tone of the interviews range from casual ("the researcher and I are like friends," she says) to pedagogic ("professor to student"). The only constants are accessibility—avoiding technical terms—and the opening and closing questions in each one. To start: "How did you get here? What drew you to neuroscience?" To end: "What advice would you give a young Latino student who is interested in STEM?"
She lets her listeners' frame of reference be her guide. "If I didn't understand something or thought it could be explained better, I'd say, 'Let's pause. 'What does this word mean?' " even if she knew the definition herself. She gives the example of the word "MEG" (magnetoencephalography)—the measurement of the magnetic field generated by the electrical activity of neurons, which is usually combined with magnetic resonance imaging to produce magnetic source imaging. To bring the concept down to Earth, she'd ask: "How does it work? Does this kind of scan hurt the patient?' "
Paving the way for global networking
Chomik-Morales's equipment was spare: three Yeti microphones and a Canon video camera connected to her laptop computer. The interviews took place in classrooms, university offices, at researchers' homes, even outside—no soundproof studios were available. She has been working with sound engineer David Samuel Torres, from Puerto Rico, to clarify the audio.
No technological limitations could obscure the significance of the project for the participating scientists.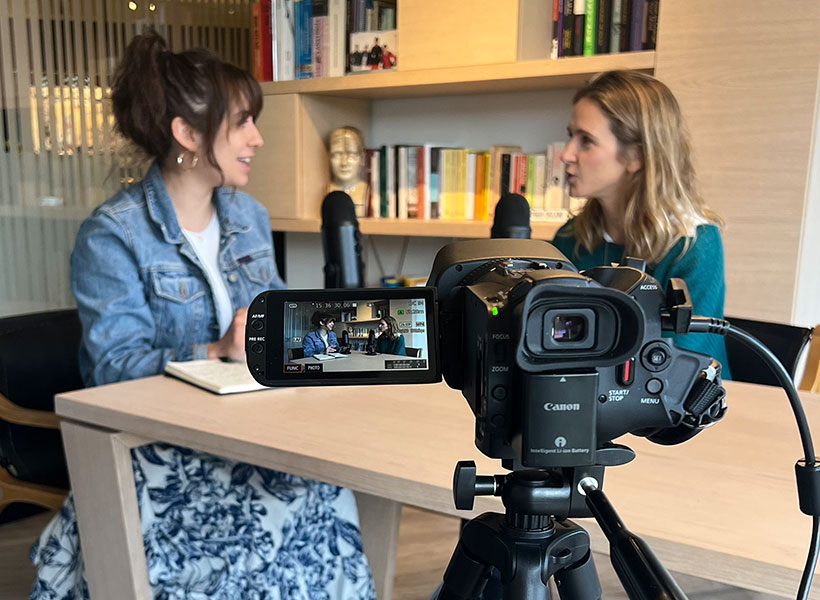 "'Mi Ultima Neurona' showcases our diverse expertise on a global stage, providing a more accurate portrayal of the scientific landscape in Latin America," says Constanza Baquedano, who is from Chile. "It's a step toward creating a more inclusive representation in science." Baquendano is an assistant professor of psychology at Universidad Adolfo Ibáñez, where she uses electrophysiology and electroencephalographic and behavioral measurements to investigate meditation and other contemplative states. "I was eager to be a part of a project that aimed to bring recognition to our shared experiences as Latin American women in the field of neuroscience."
"Understanding the challenges and opportunities of neuroscientists working in Latin America is vital,"says Agustín Ibañez, professor and director of the Latin American Brain Health Institute (BrainLat) at Universidad Adolfo Ibáñez in Chile. "This region, characterized by significant inequalities affecting brain health, also presents unique challenges in the field of neuroscience," says Ibañez, who is primarily interested in the intersection of social, cognitive, and affective neuroscience. "By focusing on Latin America, the podcast brings forth the narratives that often remain untold in the mainstream. That bridges gaps and paves the way for global networking."
For her part, Chomik-Morales is hopeful that her podcast will generate a strong following in Latin America. "I am so grateful for the wonderful sponsorship from MIT," says Chomik-Morales. "This is the most fulfilling thing I've ever done."