---
McGovern Institute Director Bob Desimone updates the community on the institute's response to the coronavirus pandemic.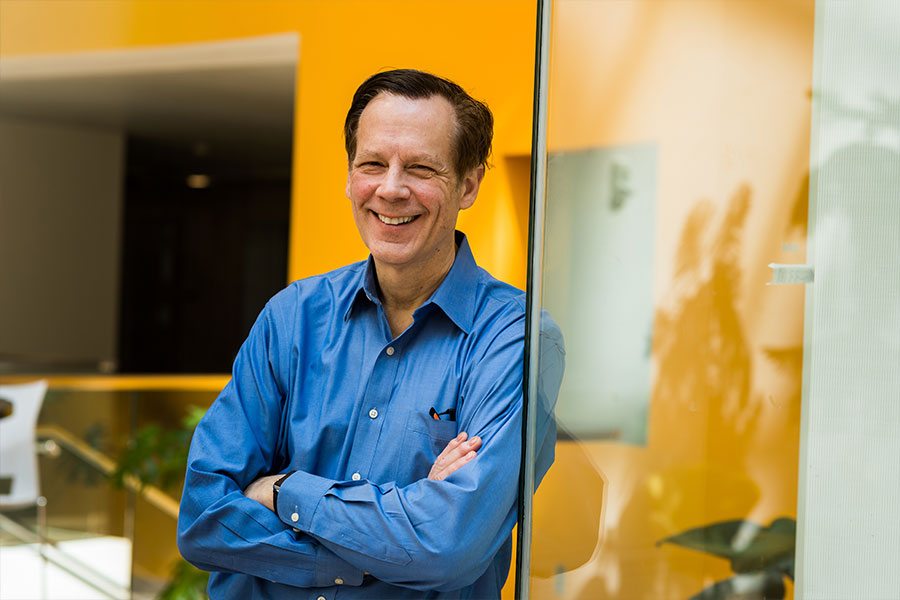 Dear members and friends of the McGovern Institute,
I am writing to you under unprecedented circumstances. Rather than walking through the vast atrium of our building, stopping to talk with researchers about their work, I am at home, as are many of you. The last couple of weeks have been a whirlwind as we downsized personnel within the institute from 100% to 10% capacity. Thank you tremendously to everybody that helped this huge transition to go smoothly.
As the dust settles, what is striking is how we are all still finding ways to connect. Faculty meetings have resumed, and have included vibrant discussions. Grants are still being written, and processed by the excellent finance team, and papers are being published. In addition, some of our researchers have turned their attention to COVID-19. To name a few, Feng Zhang is not only continuing to develop SHERLOCK, his CRISPR-based diagnostic, to rapidly detect the novel coronavirus. He also just released the How We Feel app with Ben Silbermann, CEO of Pinterest, and a team of global researchers. This app will allow symptom tracking and researchers to ask pressing questions about the symptoms and progression of the virus. McGovern Fellows, Omar Abudayyeh and Jonathan Gootenberg, are also working on rapid COVID-19 diagnostics.
Other researchers are mobilizing to bring their knowledge and skills to mitigate some of the unexpected shortages. Jill Crittenden, a research scientist in the Graybiel lab, has been working with a consortium to gather and curate information about the three main approaches for decontaminating N95 face masks. Shortages of these masks are causing health workers to resort to reusing these masks. The consortium has put together a website and a document that help hospitals and other frontline organizations to quickly, easily examine the effectiveness of, and use, different decontamination protocols. Michael Wells, a former graduate student in Guoping Feng's lab has been collaborating to set up a database where researchers that want to volunteer to help can offer up their skills.
Labs are also look at the effects of the response to COVID-19. Rebecca Saxe is working to understand some of the effects of social isolation. Her lab recently posted their findings indicating that loneliness in social isolation leads to neural craving responses similar to hunger. Also from the Saxe lab, Heather Kosakowski and Michelle Hung are also examining the effects of social isolation.
We also have a new page on our website that features stories from members of the McGovern community who have risen to the challenge during this pandemic. I have been so heartened to read about the ways in which our members are supporting one another during this unprecedented time.
But those not working directly on COVID-19 have also greatly impressed me. The diligent, efficient, and calm way in which everybody responded to help to wind down research will help us to ramp up quickly when the time comes, and it will come. In the meantime, please be assured that my team and I are here to help however is needed. If you are a researcher, we are still here to support your communications, grant submissions, and resolve logistical issues that may come up.
If you are interested in following our research, continue to stay tuned as excellent research continues to emerge. And if you are one of the Friends and donors that has come forward to support our research, thank you. Indeed, thank you to all readers for everything that you do to support the research missions of the McGovern Institute. Wishing all the best to you and your families at this difficult time,
Bob Desimone
Director