Season's Greetings from the McGovern Institute
---
From all of us, to all of you - happy holidays and best wishes for 2023!
This year's holiday video (shown above) was inspired by Ev Fedorenko's July 2022 Nature Neuroscience paper, which found similar patterns of brain activation and language selectivity across speakers of 45 different languages.
Universal language network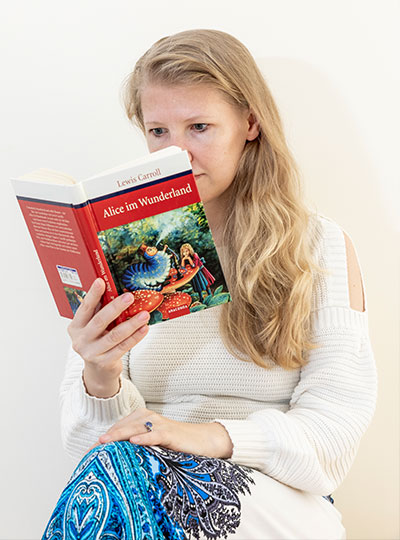 Over several decades, neuroscientists have created a well-defined map of the brain's "language network," or the regions of the brain that are specialized for processing language. Found primarily in the left hemisphere, this network includes regions within Broca's area, as well as in other parts of the frontal and temporal lobes. Although roughly 7,000 languages are currently spoken and signed across the globe, the vast majority of those mapping studies have been done in English speakers as they listened to or read English texts.
To truly understand the cognitive and neural mechanisms that allow us to learn and process such diverse languages, Fedorenko and her team scanned the brains of speakers of 45 different languages while they listened to Alice in Wonderland in their native language. The results show that the speakers' language networks appear to be essentially the same as those of native English speakers — which suggests that the location and key properties of the language network appear to be universal.
The many languages of McGovern
English may be the primary language used by McGovern researchers, but more than 35 other languages are spoken by scientists and engineers at the McGovern Institute. Our holiday video features 30 of these researchers saying Happy New Year in their native (or learned) language. Below is the complete list of languages included in our video. Expand each accordion to learn more about the speaker of that particular language and the meaning behind their new year's greeting.
American Sign Language
Arabic
Bengali
Cantonese
Danish
Dothraki
French
German
Greek
Hebrew
Hindi
Irish (Gaeilge)
Italian
Japanese
Kashmiri
Klingon
Konkani
Korean
Mandarin
Marathi
Marwari
Nepali
Persian (Farsi)
Polish
Portuguese
Saint Lucian Creole French (Kwéyòl)
Spanish
Tamil
Urdu